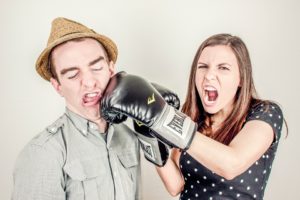 A couple's parenting differences can lead to divorce.
In one case handled by Ms. Monica Christine Fernando, a marriage and family counsellor at Reach Counselling:
The mother, a civil servant, felt that she should the one nurturing and caring for the children.
The father was soft-hearted. When he attempted to discipline the children, they did not listen and would ask their mother about what she thought instead.
On one occasion, the father wanted to buy the daughter a guitar but the mother disagreed as she felt it was too expensive.
The father had to play a passive role and follow the mother, who was dominant in the parenting relationship.
The mother felt that she had to do everything. The father felt that he could not communicate with the children.
After work, the mother would help the children with their studies. Eventually, the father became disconnected and had an affair with a third party.
See: Venssa Lee, "Unhealthy to follow one parent's style", The Straits Times, 25 September 2016
In my experience as a family and divorce lawyer in Singapore, I have observed that what break marriages apart are not "one-off incidents", but rather a build-up of day-to-day frustration with how things are at home.
Parenting is a long commitment. The lives of most young parents revolve around their children. They are concerned about different aspects of their children's lives- education, health, development, discipline etc. It is normal for parents to have different views and opinions about how to manage their children.
The challenge is to reconcile the differences and put up a united front before the children. For instance, one parent should never put down the other parent before a child. Children should not be made to feel that there are double standards at home.
Parents should communicate (not quarrel) when they encounter differences and try to see things from each other's point of view.
Never keep emotions boiling- they may just spill over!
You may also be interested to read more about:
2. Annulment (Nullity) of Marriage
5. Maintenance Issues (Alimony)
For more information, please contact us here.