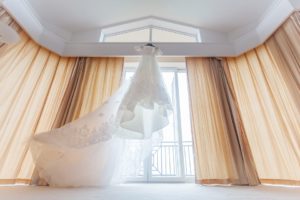 Canadian actress Christy Chung married Chinese actor Zhang Lunshuo in a fairytale wedding in Beijing on 8 November 2016. This is Chung's third marriage. Her 3 daughters, Yasmine Ross, 18, from her first marriage; Jaden Yen, 8, and Cayla Yen, 6, from her second marriage attended the wedding.
Zhang and Chung reportedly met on dating show "Perhaps Love" and started dating. Chung wore a traditional Chinese wedding dress for the morning ceremony and a bridal gown and veil in the afternoon.
At the "Under the Sea" theme wedding in a hotel, Chung said: "He's given me a dream wedding and the wedding dress I want. I'm really so happy, I'm going crazy."
The wedding reportedly costs S$1.8 million.
The groom told the bride at the wedding: "Dear, I think I may still be a little young and not strong enough. I may not have a king's ability, but I think I have a knight's spirit. I will protect you, protect this family to the last and do my best. I love you."
Chung, who was moved to tears several times during the wedding, asked her groom: "In the next life, can you marry me sooner?"
See: "Christy Chung to third husband: 'In the next life, can you marry me sooner?'", The Straits Times, 10 November 2016
Having conducted numerous divorce cases in the last few years, it is always a pleasure when my former clients send me a wedding invitation.
When they came to my office, they were at their lowest. As their divorce lawyer, I would do my best to encourage them that there is life after divorce. A better life perhaps, given that they have gained more experience and learned from mistakes made in their previous marriage.
While Christy Chung would like to marry her husband sooner in the next life, it is perhaps more important to meet the right person at the right time.
You may also be interested to read more about:
2. Annulment (Nullity) of Marriage
5. Maintenance Issues (Alimony)
For more information, please contact us here.