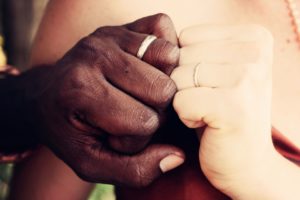 21.5% of marriages in Singapore last year (2015) involved people from different races. By comparison, the number of interracial marriages in Singapore was 14.9% in 2005. Despite the statistics, families of those involved in interracial marriages have their reservations. According to a survey conducted by Channel NewsAsia in partnership with the Institute of Policy Studies, more than 3 in 4 Chinese respondents are not accepting of a non-Chinese marrying into the family. For Indian respondents, more than 1 in 2 are not receptive.
Earlier this year, Mediacorp aired a special series telling the stories of 3 interracial couples.
Couple 1
Norsham Husaini and Anne Chua were together for 7 years before informing their respective parents that they intend to get married to each other.
According to Husaini, it was "actually quite nerve-wrecking breaking the news to my mum that I was going to marry this Chinese girl." Chua said: "It has been difficult because my dad is still not really part of the picture. He's still not comfortable with being part of my family."
Despite being married for 8 years, the couple are still contemplating the development of their children's identities. For instance, the couple decided on choosing Malay as a second language for their eldest child who will enrol in primary school in 2017. The couple have concerned family and friends who feel that they are doing the child a disservice by not having her learn Mandarin in school.
Couple 2
Martin Silva is an Indian Catholic man who has dated Esther Low, a Chinese Buddhist, for 3 years now. They are getting married next year. They have to take into account a lot of cultural considerations while planning for their big day. For instance, they have to decide on a date that does not clash with the 7th month of lunar calendar or the Christian time of Lent.
They even have different views on "gate-crashing". While gate-crashing is a tradition for most Chinese couples, Martin believes that seeing the bride before getting to the church is bad luck.
Couple 3
Veronica Karl, Eurasian and Simon Lim, Peranakan, have been married for 35 years. After many years of marriage, they have learned to accept each other's traditions.
Karl said: "I shouldn't be saying, 'Simon, you have to do it my way, this is how we Eurasians do it', because he has his own traditions… I've come to accept it and I am happy; I've learnt so much from his family."
Lim added: "You cannot change your race… You just follow your style but try to adapt, so that both parties are happy."
See: "Is love colour blind? Mixed race couples tackle challenges", Channel News Asia, 25 August 2016
As a family lawyer in Singapore, I think what Karl and Lim said in relation to interracial marriages in Singapore makes perfect sense. Same-race marriages can be complicated enough. The couple will have differences in opinions and beliefs.
For interracial marriages in Singapore, there will be more issues like cultural differences.
Karl and Lim are absolutely right. It is important for interracial couples to realise that both parties have different traditions. It is important to be accepting and receptive to each other cultures. After all, like what Lim said, "you cannot change your race".
You may also be interested to read more about:
2. Annulment (Nullity) of Marriage
5. Maintenance Issues (Alimony)
For more information, please contact us here.