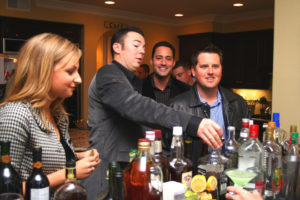 It is the end of the year and most companies in Singapore organize Christmas parties. It is common for employees to bring their partners along. One Reddit user faced an unfortunate problem.
The user, known as "Isleptwithmyhusbandsbos", wrote: "I slept with my husband's boss a few times, before I even met my husband. I don't want to go to husband's office Christmas party and run into the boss. Can I skip it?"
Adding more details, the user said: "I didn't relay the particulars of my encounters with my husband. I said that I'd gone out with [Boss] a few times, and my husband knows that means I slept with him, because he knows I'm a woman of loose morals (haha)."
How does one handle a situation faced by the user? Dealing with spouses' ex-lovers can be challenging for both parties.
The user finds it deeply discomforting "just sitting across a table from this guy, while sitting with my husband, even if nobody brings up dodgy topics…".
She continued: "It isn't that I still want to hook up with the boss, or am even attracted to him any more, but wondering if he remembers me and if he's thinking about the things we did, and wondering if my husband is imagining me and his boss… it's just really uncomfortable. It is definitely something I'd rather avoid."
There appear to be 2 camps. One camp thinks it "presents an opportunity since the [Boss] will be in [their] lives for a considerable time." The user suggested that the woman should "take the opportunity to walk up, say hello, and reintroduce [herself]".
The other camp thinks that the woman should "fake being sick that night".
See: Lauren Grounsell, "It's just really uncomfortable": Woman who slept with her husband's BOSS 'a few times' takes to social media to ask whether she should attend their office Christmas party", Daily Mail Australia, 6 December 2016
Personally, I do not think there is a "perfect solution" to solving the problem. "Ex-partners" are not easy topics to discuss with your spouse. If you choose to hide it from your spouse, you may be perceived as having something to "hide". In extreme cases, this may even constitute "unreasonable behaviour" which can be used as a reason to file for  divorce. If you come out in the open, you risk creating awkwardness and even suspicion (in some cases).
As a family lawyer in Singapore, I would think the best that you can do if you are facing a similar problem would be to be open about your former relationship and minimize contact with the ex-lover. The best way to minimize misunderstandings is to be open. This may be the trick to dealing with spouses' ex-lovers.
You may also be interested to read more about:
2. Annulment (Nullity) of Marriage
5. Maintenance Issues (Alimony)
For more information, please contact us here.